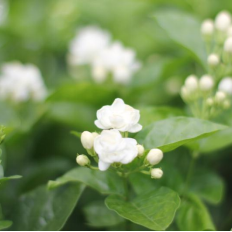 6000 jasmine petals needs to lay over tea leaves and replaced for 7 times over the course of the scenting process, just to produce 500 gram about  of this artisan tea, picking only the most-tender leaves from large-leaf tea trees in Yunnan. Afterwards, each ring is carefully hand-rolled piece by piece, and naturally scented with real jasmine flowers.
Origin

 - Jasmine from Hengxian,Guangxi ; Green tea from Yunnan
Caffeine level - Low,25 mg in an 8-ounce cup
Picked: Summer jasmine blossom with early spring green tea
Tasting notes



What to Look for

Picking only the most tender buds and the first leaf in early spring,tea leaves are hand rolled into ring shape to preserve freshness and aroma.




Aroma

Plucking jasmine blossoms grown in midsummer when the jasmine blossoms are at their most fragrant.Natural sweet jasmine fragrance with slightly spring-fresh green tea.





In the Cup


Bright pale yellow infusion.The ring shaped leaves will then open to release their delightful jasmine aroma after they are brewed.




Taste


Rich and long-lasting jasmine fragrance.This tea contains a low caffeine content and sweet brew.
Package
Foil sealed and packed in a pouch,Zipper packaging is good for storage.Net Weight:50g
Individually wrapped in eco-friendly tea pouch,total 20 packs in a tin.Net Weight:100g