Good Fortune Series design combines chinese traditional elements and character "福"(which means luck and wealth in Chinese).
If you drink a lot of tea –or find yourself sharing many cups with friends and love the convenience of tea bags, our boxed foil-wrapped tea bags are the perfect choice for you.
Tasting Notes
Dry Leaf
The tender tea tips are covered with silver and white hairs

Aroma
Rich jasmine flavours,with a sunny and umami notes of green tea

In the Cup
Bright and clear yellow

Taste
Natural sweet, strong aroma of brisk jasmine fragrance.A quick sweet aftertaste lingers in your mouth.


1 bag a day,this tea can serve for 30-48 days,spending less than $1 a day.

With the classic,good luck design and premium quality at such favorable price,it's perfect as self-brewing tea or gift.


Tea Garden
TenFu Guangxi Tea Garden 广西贵港天福茶园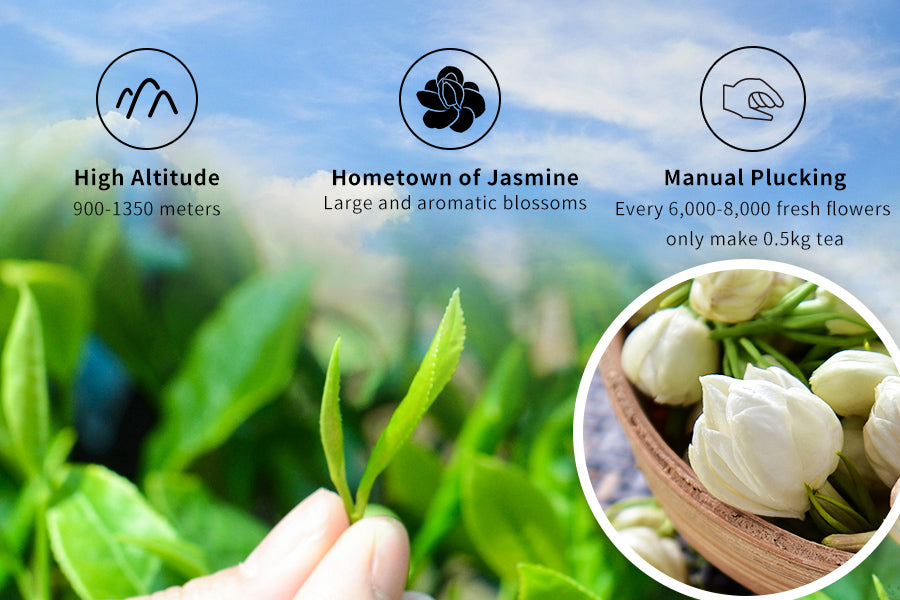 The climate in Guangxi is hot and humid in summer,where also has sufficient sunlight and fertility soil.Superior natural conditions create an ideal environment for the healthy growth of plants. The jasmine flowers planted there are fragrant.Thus the tea scented with Guangxi jasmine flowers is famous for excellent quality.
Benefit
Generally speaking,most health benefits of jasmine tea come from the tea itself. However, there is some added benefit in terms of the jasmine's relaxing scent, which researchers found was akin to the lavender's relaxing scent in terms of lowering heart rate.