As ring in the holiday season is coming,and a deligtful gift for your loved on your gift list.It can be overwhelming to choose a perfect gift for your loved one.If you are looking for a perfect gift to bring your loved one(including you)a warm moment of surprise,there's no need to pack into a store when you can select a perfet gift with simple finger move.Read on to get some inspiration from our thanksgiving guide.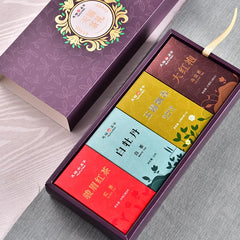 When you need ideas for the recipients on your gift list who enjoy various flavor , consider this tea assortment. There are four selections including specific types of tea. Whether they like jasmine tea,black tea,oolong tea,or white tea,you can find a tea selection presented artfully.With 4 flavors included,tea assortment provides the most tea at the most favorable price without affecting the quality.
For the tea enthusiast who knows aging tea and like to collect tea , reserve gift boxes are a perfect way to ensure enjoyment of collection. We choose two tea types that are perfect for storage-white tea and pu-erh tea.You can consider them as wine,their flavor and value will get richer over aging time.
The gift box is decorated with hand-drawn chinese ethnic fortune and happiness elements,containing 4 tea cakes with different package.Offerings can be mixed and matched, resulting in a series of gift boxes filled with favorite blends. Build a collection to suit your loved one's tastes, whether they favor white peony,gong mei,ripe pu-erh or raw pu-erh.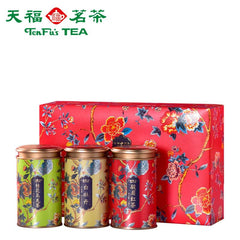 If you want to treat the one in your list to a special tea gift they're unlikely to have received before, you might try TenFu's TEA newest oriental floral gift box.Three mini delicate tins included,there are four flavors are up to you:Osmanthus Oolong,Wuyi Jin Jun Mei Black Tea,White Peony White Tea,Wuyi Da Hong Pao-Big Red Robe.Besides we offer a perfect featured blend for you in case it's hard to make a decision.
                                      Oriental Ripe Pu-erh Tea Cake                  Oriental White Tea Cake
Buy One Get One--You can not only bring this gift to your loved one,but also get a free gift for yourself!The tea package is hand-drawn with ethnic ornaments in oriental chinese style such as peacock , white crane and other elements means lucky and happiness.Wrapped in a delicate painting gift bag.The recipent will be attracted in this elegant oriental gift at first sight.
If the recipient is a travel lover,this is the best choice you couldn't miss.This city souvenir limited edition has six types of teas including white tea,jasmine tea,black tea,tieh kwan yin oolong,pu-erh tea.Each mini tin has its own representative city beauty printed on the package. You can taste distinctive taste of oriental lands with comfort from home.Any choice of four tins co-ordinate a delicate gift bag.
"There are endless choice at TenFu's TEA ,from flavorful tea assortment to elegant teaware.Start from a warm holiday and a special tea gift,bring happiness and health to those on your list as well as yourself. "