Before knowing about the Oolong tea, you may only regard it as a type of tea. In fact, the case is not as simple as you have imaged. The more you know about it, the more you may fall in love with it. As a general name for the tea category, Oolong tea is mainly produced in Fujian and Taiwan with different types and tastes.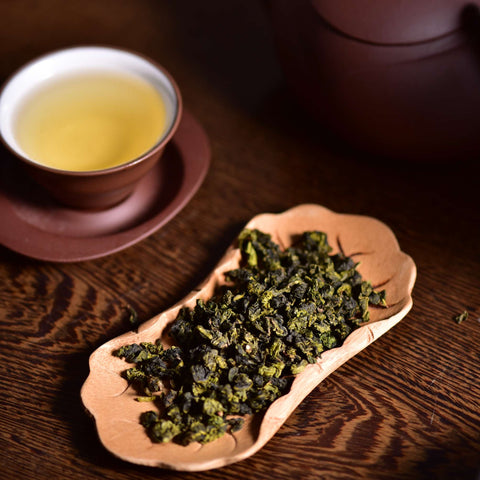 What is Oolong Tea?
Made from the leaves, buds and stems of the Camellia sinensis plant, the oxidation degree of Oolong tea is between black tea and green tea, so it's the case with the taste. In an 8-ounce cup of oolong tea, the content of caffeine is between 16 mg and 55 mg. With regard to the content of caffeine, Oolong tea has less than black tea but more than green tea.
Three Well-known Oolong Teas:based on different roast degrees
1.Representative of Light Roast 
Tieh Kwan Yin, which has a sweet and refreshing taste, rich fragrance and full flavor.
2.Representative of Medium Roast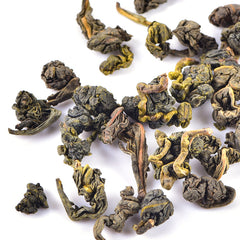 Taiwan Formosa High Mountain Tea, such as Dong Ding Oolong, which has a mellow and sweet taste with a slight aroma of ripe fruit.
3.Representative of Heavy Roast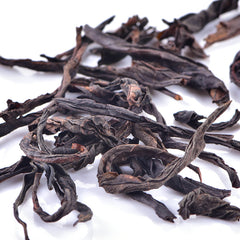 Wuyi Oolong, such as Da Hong Pao (Big Red Robe), which is sweet and refreshing to produce body fluid with rich and mellow taste; it never tastes bitter and astringent with strong brewing.
With continuous technology development, oolong tea has no longer been restricted to all the existing classifications. Recently, some new-style oolong teas such as Sweet Olive Flower Oolong and Peach Oolong have been greatly flavored by more and more tea fans. Not only oolong tea but also scented tea are all good choice for tea time in the afternoon.
6 Benefits of Oolong Teas
Drinking Oolong tea often can bring many benefits because it's rich in tea polyphenols, plant alkaloids, protein, amino acids, vitamins and other nutrients, and it can not only drive away fatigue, but also eliminate the greasy feel of food to bring refreshing feeling.
1.Help Weight Loss
A study in mice showed that the animals receiving oolong tea extract while being fed a high fat, high sugar diet, gained less abdominal fat than mice on the same diet that did not receive the tea extract. Oolong tea helps you burn fat faster by raising your metabolism for up to two hours after drinking it. Oolong also contains polyphenols that are able to block enzymes that build fat.
2.Increase Alertness
This healing hot cuppa is known to revitalize your mental alertness and performance, naturally, because it contains caffeine. Be careful if you are sensitive to caffeine and limit your consumption to one lightly steeped cup a day, or indulge a few times a week.
3.Dental health
Fluoride is an element that is often added to drinking water, toothpaste, and mouthwash to help prevent dental cavities. Tea leaves naturally contain fluoride, so drinking oolong tea could help prevent cavities. Excess fluoride can be harmful, but drinking less than 1 liter of oolong tea per day is safe for most adults.
4.Cancer
Researchers in Taiwan examined the association between drinking tea and the risk of head and neck or throat cancer. Each cup of oolong tea consumed per day equated to a 4 percent lower risk, but the result was not significant. Each cup of green tea consumed per day equated to a 6 percent lower risk for head and neck cancer, which was more significant.
Another study in Chinese women found that drinking green, black, or oolong tea was linked to a decreased risk of ovarian cancer. However, according to the National Cancer Institute, there is not currently enough research to say for certain that drinking tea decreases cancer risk.
5.Betters your skin condition
Eczema often occurs in conjunction with allergies or sensitivities. Oolong tea is able to suppress those allergic reactions because it combats free radicals, which is a healing property of an antioxidant. Also, the antioxidants found in oolong are essential for vibrant, youthful skin. Drinking oolong can greatly slow down the aging process, so it's a great anti-aging tool.
6.Diabetes

Some studies have shown that drinking 3 or more cups of tea per day is associated with a lower risk of type 2 diabetes.

However, studies specifically looking at oolong tea have had varied results.

In one study, healthy men drank almost 6 cups per day of oolong tea. At different times, they drank oolong tea that contained supplemental antioxidants, which were in the form of catechins or polyphenols. Each of the teas was consumed for 5 days. Researchers found that drinking oolong tea did not improve blood sugar or insulin levels.

Interestingly, one study found that working men who drank 2 or more cups of oolong tea per day had a higher risk of developing diabetes than men who consumed 1 cup of oolong tea per day or no oolong tea.
Traditional Chinese Kungfu Brew Guide
So, how to brew the oolong tea correctly? 
To brew the tea in a teapot, we should choose about 10g of tea to brew with the water between 90℃ and 95℃, the first brewing lasts 30 seconds, the second 15 seconds, the third 35 seconds, the fourth 40 seconds and the fifth 45 seconds. To brew the tea directly in a cup, we should put about 5g of tea, or we can also adjust the amount of tea and water according to personal taste preferences.
Recipe:Iced Oolong Milk Tea
Ingredients:Milk,Tieh Kwan Yin Oolong,Ice cubes,Honey(optional)
Step 1:
Pour tea leaves in 300 ml boiling water
Simmer for 3 minutes.
Step 2:Add 200ml milk
Mix it in
Step 3:Strain and pour into a glass
Add some ice and honey
Enjoy!
 
Featured Oolong Teas
Souce:
Baer, D. J., Novotny, J. A., Harris, G. K., Stote, K., Clevidence, B., & Rumpler, W. V. (2010, October 20). Oolong tea does not improve glucose metabolism in non-diabetic adults. European Journal of Clinical Nutrition, 65(1), 87-93 http://www.nature.com/ejcn/journal/v65/n1/full/ejcn2010192a.html?foxtrotcallback=true
Hayashino, Y., Fukuhara, S., Okamura, T., Tanaka, T., & Ueshima, H. (2011, July). High oolong tea consumption predicts future risk of diabetes among Japanese male workers: A prospective cohort study [Abstract]. Diabetic Medicine, 28(7), 805-810 https://www.ncbi.nlm.nih.gov/pubmed/21244473
He, R., Chen, L., Lin, B., Matsui, Y., Yao, X., & Kurihara, H. (2009, March 7). Beneficial effects of oolong tea consumption on diet-induced overweight and obese subjects [Abstract]. Chinese Journal of Integrative Medicine, 15(1), 34-41 https://link.springer.com/article/10.1007%2Fs11655-009-0034-8
Heber, D., Zhang, Y., Yang, J., Ma, J. E., Henning, S. M., & Li, Z. (2014, July 16). Green tea, black tea, and oolong tea polyphenols reduce visceral fat and inflammation in mice fed high-fat, high-sucrose obesogenic diets. Journal of Nutrition, 144(9), 1385-1393 http://jn.nutrition.org/content/144/9/1385.long#F2
Higdon, J., Drake, V. J., & Delage, B. (2005, January). Tea http://lpi.oregonstate.edu/mic/food-beverages/tea
Huang, C.-C., Lee, W.-T., Tsai, S.-T., Ou, C.-Y., Lo, H.-I., Wong, T.-Y., … Chang, J. S. (2014, May 5). Tea consumption and risk of head and neck cancer. PLoS ONE, 9(5) https://www.ncbi.nlm.nih.gov/pmc/articles/PMC4010481/
Lee, A. H., Su, D., Pasalich, M., & Binns, C. W. (2012, October 26). Tea consumption reduces ovarian cancer risk [Abstract]. Cancer Epidemiology, 37(1), 54-59 https://www.ncbi.nlm.nih.gov/pubmed/23107758
Mineharu, Y., Koizumi, A., Wada, Y., Iso, H., Watanabe, Y., Date, C., . . . Tamakoshi, A. (2009, December 8). Coffee, green tea, black tea and oolong tea consumption and risk of mortality from cardiovascular disease in Japanese men and women [Abstract]. Journal of Epidemiology & Community Health, 65(3), 230-240 http://jech.bmj.com/content/65/3/230