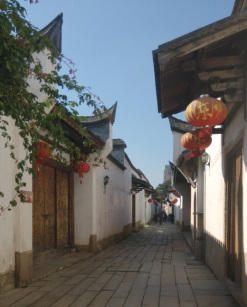 The jasmine flowers produced in Hengxian are mostly double-petaled with high yield, aromatic and strong disease resistance. The flowers are well-known for the unique features of early flowering , long florescence, big buds, pureness and plumpness as well as strong aroma. The jasmine tea scented there has fragrant , long-lasting  flavor and long durability.
Tasting notes
What to Look For

Three to four leaves are hand rolled into pearl shape to preserve freshness and aroma.

Aroma

Natural jasmine fragrance with a note of grass


In the Cup

These green tea pearls will then open to release their delightful jasmine aroma after they are brewed.

Taste

Sweet with no astringency,jasmine flavor lingering in your throat


The scenting of the tea is a unique process that takes several days, resulting in an exquisite cup of jasmine tea. Jasmine blossoms are picked in misty twilight when they are the most fragrant, and blended with green tea leaves. Jasmine pearl green tea is considered to be one of the most premium teas in the scented tea category.