Tasting Notes
Dry Leaf
Ancient-tree leaves compressed into cake shape and individually wrapped

Aroma
Woodsy and earthy aged notes

In the Cup
Rich mahogany color

Taste
A complex mellow earthy flavor with a comforting woodsy aroma,great for pu-erh beginners


The raw material for this ripened pu-erh cake is using Menghai large-leaves as raw materials, with one bud and two leaves as the picking standard. The tea has fat tea buds and leaves with obvious golden hairs.

This cake is also capable of lasting through several infusions, and whether at home or in the office, it is definitely worth a try.
Tea Garden
TenFu Yunnan Tea Garden 云南天福茶园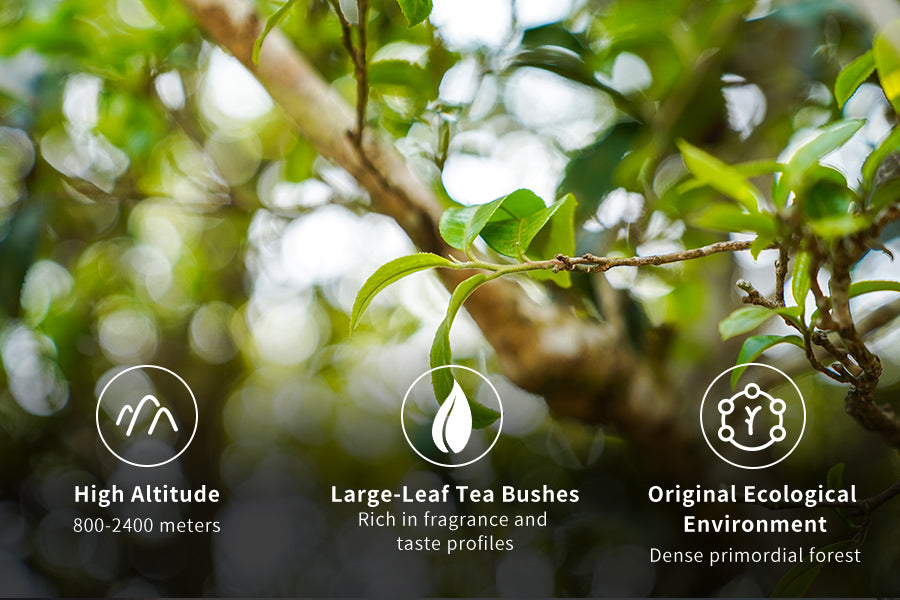 Yunnan is considered to be a magical and mysterious province.There is populated by dense primordial forest and minority.Different religions and myths enbale a multicultural civilization,which intermingle without losing their separate identities.

Deep in the subtropical lush mountains of Yunnan, the large leafed varietal of tea bush grows abundantly in TenFu Yunnan Tea Garden

Pu Erh Tea(普洱 Pu'er):Ripe Pu Erh(熟普 Shou Pu),Raw Pu Erh(生普 Sheng Pu)


Benefit
As it is not fermented, the tea polyphenols that help weight loss in Raw Puerh are maintained in larger amount.Rich tea polyphenols help the body of detox and anti-radiation.

It can also help to control blood fat and protect your teeth.